Treasures of Italian food tradition
5 days 4 nights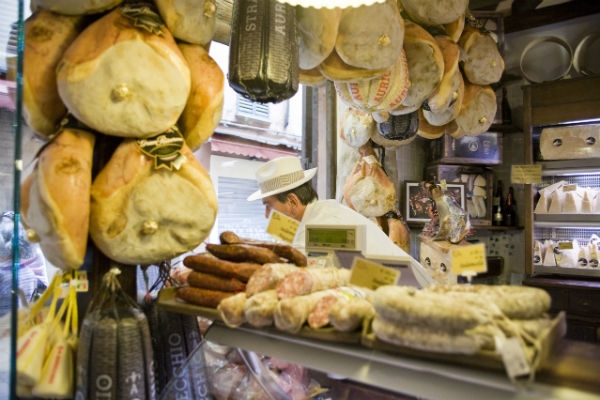 Day 1.: arrival at the airport of Bologna. Meeting with English speaking assistant and transfer to the centre for an half-day guided tour of this splendid city. We will take a walking tour through this fascinating medieval town and will discover the artistic treasures around its charming main squares, Piazza Maggiore and Piazza del Nettuno. At the end stop in a typical "bottega"(shop) to taste the traditional products (pasta, mortadella, salami, etc). Driving further west to the home of balsamic vinegar we see how this signature product is made and we sample varieties of heavenly-scented balsamic vinegar. Dinner in a typical Acetaia and overnight at the hotel in the region of Modena.

Day 2: This morning we head to the Parma area, home of the legendary parmigiano reggiano (Parmesan cheese) and the famous Parma-ham. First we visit a traditional Parmesan cheese factory. After watching the workers go through all the fascinating steps in making the cheese and visiting the incredible storage rooms, we nibble on parmesan cheese made right in the factory. After lunch guided visit of Parma, starting from the medieval Piazza Duomo, dominated by one of the greatest Romanesque cathedrals in Italy. It is noted for its classic gable facade, double loggia and its dome, frescoed by Correggio. The other eye-catching building in Piazza Duomo is the baptistery, the work of the most brilliant sculptor and architect of the Middle Ages, Benedetto Antelami. Overnight at the hotel.

Day 3: After breakfast departure to the lake Maggiore. Arrival in Stresa and excursion by boat of The Borromean Islands. Isola Bella is one of the world's great gardens (and correspondingly popular), a wedding cake of terraces and greenery floating in Lake Maggiore, Isola Madre is the ideal dessert to follow Isola Bella: a relaxed, informal landscape garden around a charmingly domestic villa, visual entertainments include the marvellous plant collection. Typical lunch on the isle of Fishers. At the transfer to the hotel in the surrounding. Dinner and overnight.

Day 4: Full day excursion to Milan. Discover the Duomo and The Scala Theatre during your 2 hours guided tour, and enjoy this dynamic and stylish city walking on your own in the central area. Lunch and dinner are not included. In the evening, back to the hotel.

Day 5: After breakfast, enjoy your last day in Italy shopping or strolling around. Following your departure flight hour, our driver will transfer you to Milan airport.
End of our services.